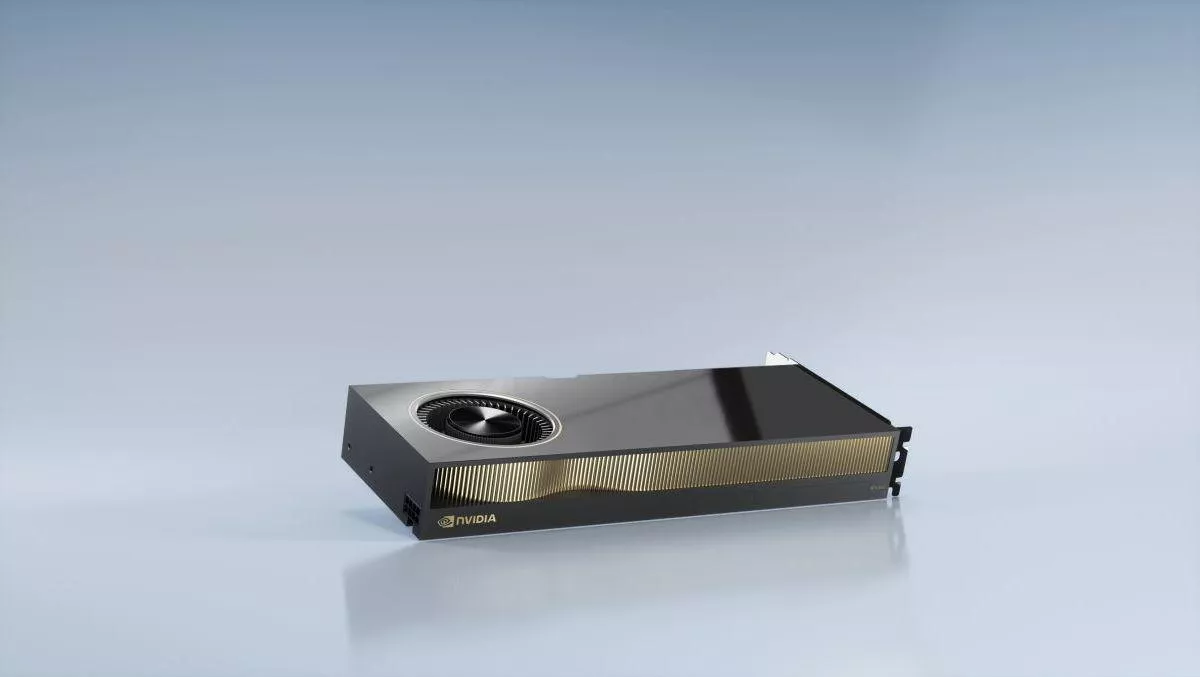 NVIDIA adds two new GPUs designed for 'artists, designers, and engineers'
NVIDIA has announced two new graphics processing units (GPUs) designed especially for artists, designers, and engineers around the world.
The NVIDIA RTX A6000 and NVIDIA A40 GPUs, announced at GTC 2020 this week, are designed to help users tackle their projects that generally require large compute workloads.
"The coronavirus pandemic has shifted the way content is created and consumed. Work now often involves teams dispersed across the globe, working remotely on high-resolution content while using multiple workloads and requiring massive compute resources," the company states.
Both of the new GPUs are built on NVIDIA's Ampere architecture and feature the renowned RT cores, Tensor cores, and CUDA cores that are built to improve compute loads, graphics, artificial intelligence, and rendering processes. NVIDIA states that these are 'significantly faster' than previous generations of the GPUs.
NVIDIA highlights performance improvements on the RTX A6000 and A40 GPUs:
Second-Generation RT Cores: Delivers up to two times the throughput of the previous generation, plus concurrent ray tracing, shading and compute.

Third-Generation Tensor Cores: Provides up to five times the throughput of the previous generation, up to 10 times with sparsity, with support for new TF32 and BF16 data formats.

New CUDA Cores: Delivers up to two times the FP32 throughput of the previous generation for significant increases in graphics and compute.

48GB of GPU Memory: NVIDIA calls this 'the largest memory available in a single GPU'. It is expandable to 96GB using NVLink to connect two GPUs.

Virtualisation: With the addition of NVIDIA virtual GPU software such as the NVIDIA Virtual Workstation, NVIDIA can support graphics workloads and virtual workstation instances at scale for remote users, enabling larger workflows for high-end design, AI, and compute workloads.

PCIe Gen 4: Provides twice the bandwidth of the previous generation, accelerating data transfers to the GPU for data-intensive workloads like data science, hybrid rendering and video streaming in PCIe Gen 4-enabled servers and workstations such as the Lenovo ThinkStation P620.
The NVIDIA RTX A6000 will be available from channel partners including PNY, Leadtek, Ingram Micro, Ryoyo and on NVIDIA's website from mid-December.
The NVIDIA RTX A6000 and NVIDIA A40 will be available from OEM workstation and server vendors worldwide starting early next year. Manufacturers including Cisco, Dell, Fujitsu, HPE and Lenovo are expected to include NVIDIA A40-based servers in their offerings next year.
Support for NVIDIA virtual GPU software, including NVIDIA Virtual Workstation, will be available early next year.