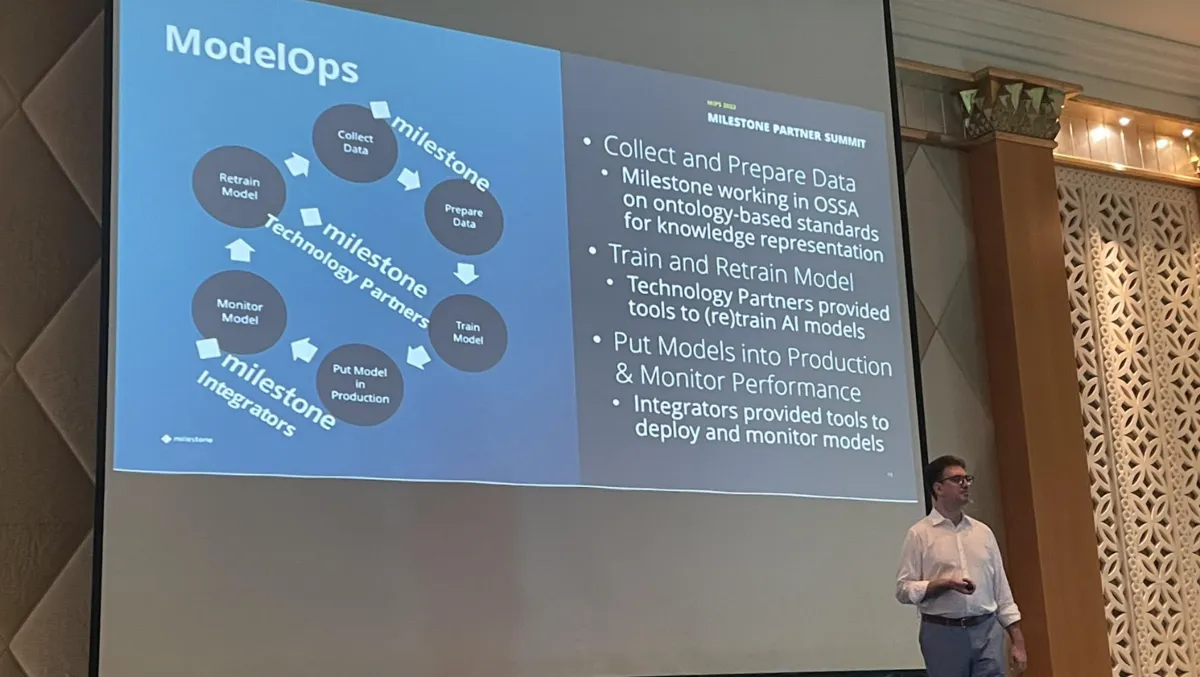 Demystifying AI and the benefits of AI driven data technology for VMS
FYI, this story is more than a year old
As AI technology continues to be utilised across enterprises of all sizes and types, it is becoming increasingly clear that many challenges and opportunities are at play.
In the VMS market, AI is going through a significant renaissance and works in tandem with existing technology to provide solutions that will enhance businesses and remedy common pain points.
On day one of the Milestone Systems MIPS summit, a session by Dr Barry Norton, VP of Research, discussed some of the groundbreaking ways AI, data, and analytics can increase the value of video technology solutions.
The session started with a focus on the fundamentals of AI in video, with Norton explaining the significant change that has been seen.
"Now that convolutional networks are running on all of the cameras, we're working on much more sophisticated, deep learning models," he says.
Norton started by showcasing the existing benefits of object detection and how this has helped redefine analytics. Using AI in object detection can help analyse patterns and track them more efficiently and effectively.
He also pointed out how Milestone XProtect Rapid REVIEW takes this to a deeper level.
"We can show you really sophisticated tracks for all kinds of objects," he says.
"We can find more objects, we can locate them better, and we can re-identify them better, not just across frames in one camera but across multiple cameras."
Next, Norton explained how segmentation models can create better boundaries and enable better analytical outcomes.
"For instance, if we want to map mountains, you don't have to map a box and capture all kinds of other things in that box, you can use this boundary and just go around exactly where they are."
It is often found in VMS that sometimes certain scenarios and analyses can struggle to accurately produce outcomes, as incorrect outlier data is received.
Pose estimation and anomaly detection can help produce better results, and Norton says these can be used across many verticals.
"We actually use pose estimation to find out what people are doing. Who's fighting? Who's having a nice chat? These kinds of things help us to make powerful predictions in deployments."
Anomaly detection allows the software to learn the norm and then detect possible outliers and analyse issues. Super resolution and thermal imaging are also key technologies that can help further pinpoint and analyse outliers and create better outcomes with AI.
While privacy is a significant concern in the VMS industry worldwide, Norton says that Milestone is at the forefront of making sure the AI technology is helping address security concerns and gives anomaly detection as an in-practice example.
"We all know sharing video comes with all kinds of concerns relating to privacy and consent," he says.
"Anomaly detection is one of those unsupervised approaches where you don't collect the data set. Instead, you watch with your model and what's happening across the video."
Synthetic data was also another way that can help address security concerns. This type of technology simulates situations without using real people.
"Synthetic data can be used to train models. It can also be used to evaluate models, because we can make it seem as we want to," says Norton.
Looking to the future, Norton says that Milestone continues to commit to research in AI, with its team consistently striving to create better solutions. One of the ways they do this is through a ModelOps system, which includes Milestone integrators and technology partners.
Milestone works on ontology-based standards for knowledge representation and then provides technology partners with tools to train and retrain AI models. These models are then put into production, and integrators are provided tools to deploy and monitor models.
"We don't want AI to be off the shelf. If you take it off the shelf, maybe it works in your deployment, or maybe doesn't look so well," says Norton.
"We envisage that what people are moving towards will not just be training models they know and love, but training and retraining models that get better over time."