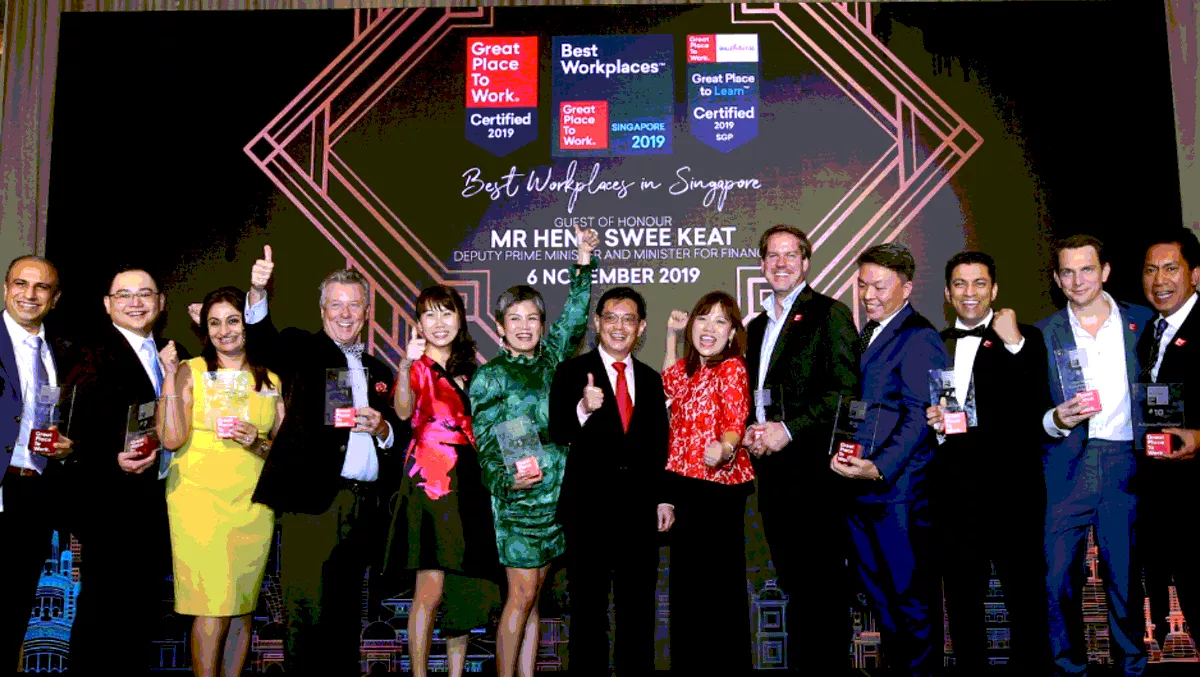 Singapore's Best Workplaces 2019 revealed
By Newsdesk
Thu, 14th Nov 2019
FYI, this story is more than a year old
HubSpot, Grab, FireEye, Agilent Technologies, Micron Technology, and Adecco are amongst some of the best places to work in Singapore, according to Great Place to Work's Singapore Best Workplaces 2019.
Earlier this month, the awards recognized organizations that were top of their game for building high-performing cultures where employees trust their leaders, are proud of what they do, and enjoy the people they work with.
Rankings are determined based on confidential information from employees working at listed organisations.
"All curated organizations for this study have a clear majority of their employees who consider their organizations to be great workplaces," Great Place to Work says.
Deputy Prime Minister and Minister of Finance Heng Swee Keat attended the awards. In a speech, he acknowledged the people behind Great Place to Work Singapore, and how workplaces are changing.
"Workers want to trust their leaders, take pride in their work, and enjoy the camaraderie with their colleagues. Workers want to work in a place where they belong.
"Over the years, employers have also come to realise that to improve productivity and attract and retain talent, we need workplace cultures that recognise gender equality, support lifelong learning, facilitate multiple career tracks, and promote good work-life harmony.
"We need to have fair reward systems, so that workers, regardless of gender, race, religion or age, are encouraged to join the workforce.
He also explains that the workplace profile is changing. Employees work for longer, which means they upskill themselves and younger colleagues. This is particularly evident as more workplaces become multi-generational.
"We also need workplaces that provide flexible work arrangements, so that workers can pursue their aspirations at the workplace, while having support to start a family, take care of their parents, or have other pursuits. This requires employers to have a progressive mindset.
Employers recognise that progressive workplaces are more productive because they have more engaged employees and more innovative teams.
The Singapore Government launched the Tripartite Alliance for Fair and Progressive Employment Practices (TAFEP) in 2016. Heng Swee Keat says approximately 2800 employers have adopted at least one Tripartite Standard.
He also outlines that women play a critical role in the workforce, and although the gender pay gap has decreased, there's still room for improvement.
"We need fair and progressive workplaces to create an environment where all workers can achieve their fullest potential, regardless of gender.
Our award winners tonight exemplify many best practices in tapping on the talents and skills of both men and women.
Heng Swee Keat outlined the importance of valuing and building the strengths to older workers.
This year the Government announced that the retirement age would increase to 65, and the re-employment age to increase to 70 by 2030.
"Employers should take the opportunity to redesign their workplaces and jobs to encourage older workers to work with them. Because older workers have much to offer.
They have years of experience and deep expertise, making them valuable mentors to the younger workers. We can continue to do more to support productive longevity for seniors, including helping older workers to upgrade their skills in order to take on new roles.
Finally, Heng Swee Keat acknowledges that work-life harmony is also characteristic of a great workplace.
"Increasingly, workers want work arrangements and progressive work culture that will allow them to fulfil their family commitments and personal aspirations.
"One area that people feel strongly about is Flexible Work Arrangements. Flexible Work Arrangements allow workers to better integrate their work responsibilities with their personal and family aspirations.
"I am glad to know that many of our award winners offer flexible work arrangements, and some companies even go above and beyond to support working parents.
"I hope that many more companies will come on board to offer such arrangements and make work-life harmony a reality for all workers.
Singapore Best Places to Work 2019 winners are:
1. Royal Plaza on Scotts
2. Salesforce
3. DHL Express
4. HubSpot
5. Grab
6. FireEye
7. Agilent Technologies
8. Aviva
9. Micron Technology
10. Adecco