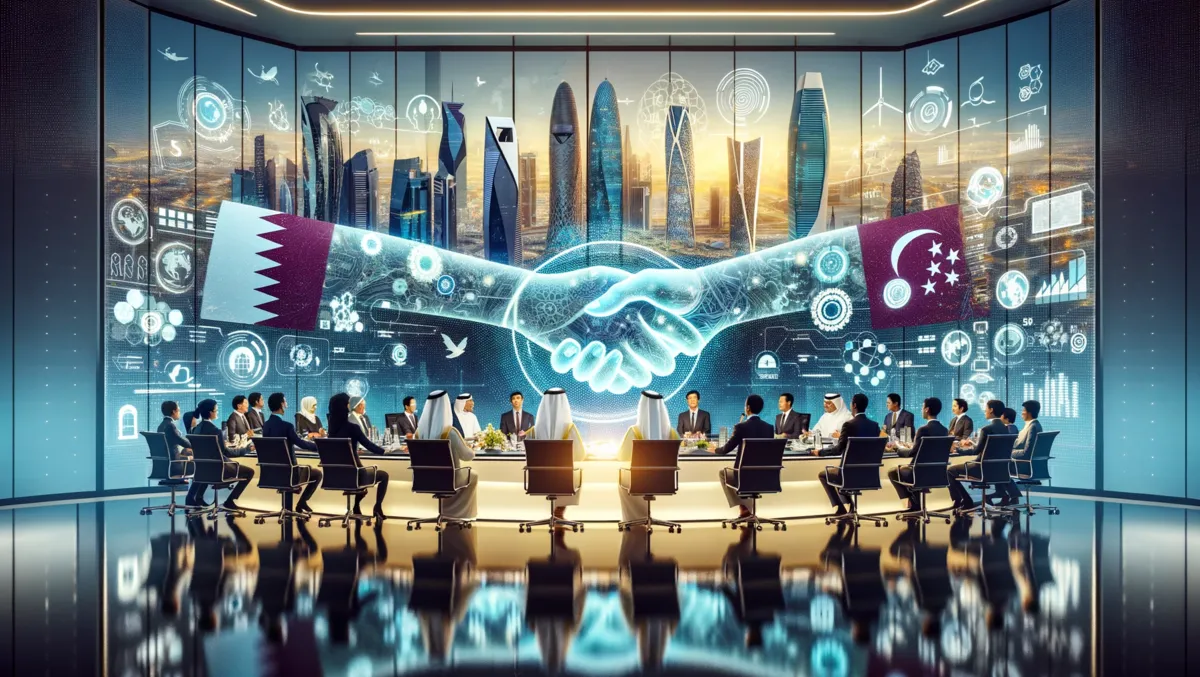 Qatar & Singapore reinforce ties with joint innovation challenge
Wed, 8th Nov 2023
By Tom Raynel, Managing Editor
The bilateral relationship between Qatar and Singapore is further reinforced by the recent announcement of the Qatar-Singapore Joint Innovation Challenge (QSJIC). The challenge, a product of collaboration between the Qatar Research, Development, and Innovation (QRDI) Council and Enterprise Singapore (EnterpriseSG), was declared during the Singapore Week of Innovation and Technology (SWITCH) held from October 31 to November 2, 2023.
This collaboration between the two nations is seen as a historic moment for global innovation and technology advancement. His Excellency Ambassador of the State of Qatar to Singapore Saoud bin Jassim Al Jufairi was among the event's attendees.
The innovation challenge looks to address seven problem statements put forth by three spearheading organisations: the Qatar Company for Airport Operation and Management (MATAR), Qatar Insurance Co. (QIC) Digital Venture Partners, and the Ministry of Environment and Climate Change (MoECC). The initiative is specifically calling for fresh ideas and remedies from Singapore-based companies in sectors such as energy, sustainability, and insurtech.
Hind A. Zaki, International Partnerships Director at the QRDI Council, described the recent engagement as an affirmation of the strategic alliance formed earlier this year between the QRDI Council and Enterprise Singapore. Zaki heralded the collaboration as fostering innovation ecosystems in both Singapore and Qatar, and providing a formidable platform for Singaporean innovators to co-create and pilot initiatives within Qatar's fertile and resource-rich landscape.
Furthermore, David Luong, Senior Manager IT, Digital Systems & Projects, MATAR, expressed their anticipation for innovative solutions tackling issues around waste water treatment. As they striving to facilitate a comfortable, safe, and secure travel for all, sustainability remains a focal point for the airport.
RDI Program Director at QRDI Council, Ms. Nada M. Al-Olaqi, revealed that beyond the funding of U$130,000, they are also backing businesses looking to establish a presence in Qatar through grants and subsidies as well as helping introduce companies into the local ecosystems in Qatar.
The QSJIC is an offshoot of the MoU inked by the QRDI Council with the Public Utilities Board in Singapore in August 2023. That MoU was signed during the visit of His Excellency Sheikh Mohammed Bin Abdulrahman Bin Jassim Al Thani, Prime Minister and Minister of Foreign Affairs of the State of Qatar, to Singapore, at the behest of the Prime Minister of Singapore, Mr. Lee Hsien Loong.
Finally, G. Jayakrishnan, Executive Director for South Asia, Middle East & Africa at EnterpriseSG, emphasised that the joint venture will further deepen innovation collaboration between Qatar and Singapore. Jayakrishnan expressed confidence that Singapore-based companies, with proficiencies in energy, environmental sustainability, and insurtech, can be effective partners in the development of solutions and products that can influence Qatar's sustainable development goals. Winners of the QSJIC will receive up to SGD150,000 in solution development support and the opportunity to pilot projects alongside the three challenge statement owners.