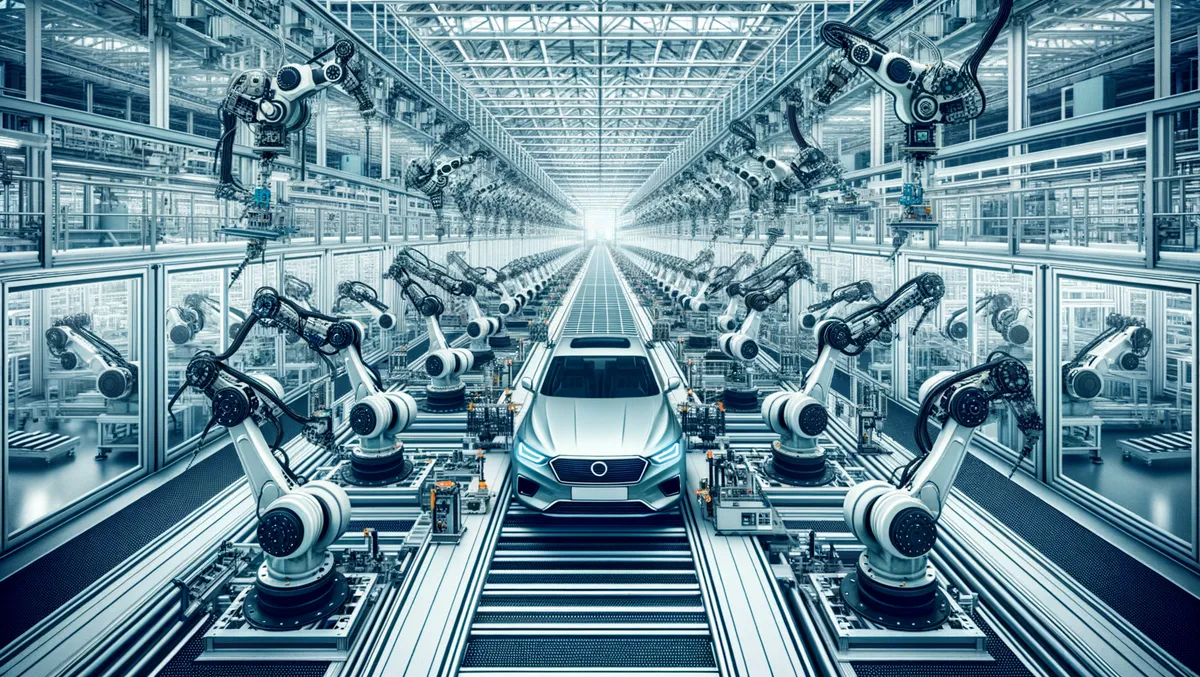 Exquisite Automotive, Huawei & China Unicom transform car roof production with 5G
The Baoding Automation Technology Branch of Exquisite Automotive Systems Co., Ltd (EA) has transformed its car roof production line through a 5G-Advanced flexible production line provided by Huawei and China Unicom. Located in Baoding, Hebei, and a subsidiary of Great Wall Motor Co., Ltd, EA oversees the development of intelligent equipment and the integration of automated production lines for various auto companies.
The new 5G-Advanced system offers ultra-high reliability and ultra-low latency, significantly reducing production interruptions and downtime. This shift towards wireless industrial networks eliminates the constraints of wires and has resulted in an average reduction of about 60 hours of downtime per year. Previously, wired networks requiring serial connections resulted in wire abrasion in mobile application scenarios such as robot arms, slide units, and swiveling tables, which often led to production interruptions.
With its ultra-high reliability, low latency, and easy deployment, the 5G-Advanced solution is ideal for high-end core manufacturing processes requiring high response speeds. Not only does it enable easier network deployment, but it also supports flexible manufacturing. Apart from providing multiple functions like data collection (IT) and industrial control (OT), this technology makes smart use of the 5G-Advanced indoor base stations by directing industrial robots through instructions transmitted at high speeds wirelessly. These features were validated in EA's 5G-Advanced industrial Internet lab before being implemented in commercial production lines.
According to Yuan Zhanjiang, Deputy General Manager of EA's Industry Intelligence Department, digitalisation is essential for the transformation and upgrade of manufacturing enterprises. Speaking at the press conference, he said, "We will seize the opportunity presented by enterprise transformation and upgrade, and leverage digital technologies to continually improve our smart manufacturing capabilities, and contribute to the transformation and upgrade of Great Wall Motor and the wider manufacturing industry."
In the perpetually digitising world, many countries consider industrial digital transformation as a new catalyst for economic growth and strive to make manufacturing increasingly digital, connected, and intelligent. To facilitate such upgrades to smart manufacturing, China Unicom is hastening the construction of digital infrastructure and deepening integrated innovation in digital technologies. Fan Ji'an, Chief Big Data Scientist of China Unicom, addressed the press conference stating, "We are working with all industry partners to build a 5G-powered industrial Internet."
China Unicom believes that 5G-Advanced applications can create more value for enterprises. Fan stated, "We are willing to work with all sectors to create new momentum for innovation, and promote high-quality development by integrating the digital and real economies. Together, we want to begin a new chapter in China's modernization journey." He also announced that 2024 would mark the first year of 5G-Advanced's commercial use, signalling the transition from technical verification to commercial deployment.
According to the recently concluded Global Mobile Broadband Forum, 13 global operators, including China Unicom, have jointly initiated the first wave of 5G-Advanced networks. This active promotion of the development of 5G-Advanced echoes Fan's vision of industrial applications moving from auxiliary production to core production systems, thereby further driving the manufacturing industry to go digital.