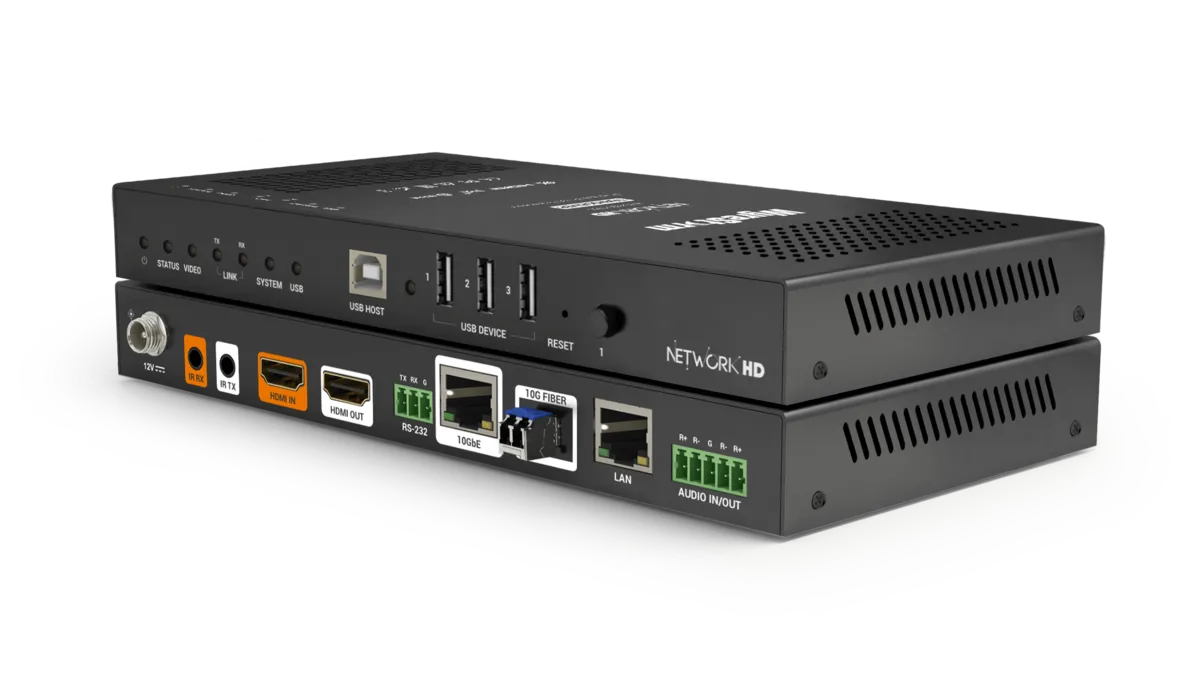 WyreStorm unveils new video bars and an HD video system
FYI, this story is more than a year old
WyreStorm, an audio-visual solutions manufacturer, has released new products with features to improve customers' audio and video experience. The new releases include two video bars – Apollo Series and HALO VX10, and a high-definition (HD) video system NetworkHD.
The WyreStorm Apollo Series video bar is an integrated communication product purpose-built for both small huddle spaces and large conference rooms.
It boasts a speakerphone, presentation switches, and HD electronic pan-tilt-zoom (ePTZ) camera in one compact device, ready for versatile spaces.
Exceptional sound quality means speakers can be heard even from up to eight metres away from the video bar, and audio sounds crisp even in larger spaces.
The WyreStorm HALO VX10 video bar is a perfect addition to small huddles, meeting rooms, and home offices.
It features a 4K wide-angle artificial intelligence (AI) camera, a dual-power stereo speaker, and a beam-forming four-microphone array.
The wide-angle AI camera means meeting participants don't need to crowd around the computer, as the camera can pick up an ultra-wide 120-degree field of view.
It automatically crops the image as people enter or leave the field of view, and it can follow the presenter as they stand up and move around, ensuring their image remains in the centre of the screen.
Even if the speaker keeps changing, the WyreStorm HALO software automatically picks out the active speaker. It puts their image front and centre, keeping attendees engaged and letting them see facial expressions and body language more clearly.
The WyreStorm NetworkHD 500 and 10G 600 series give integrators an easy, flexible and cost-effective audio visual (AV) over internet protocol (IP) system.
It transmits full HD video over the network for high-quality AV distribution in any commercial application. In addition, the system features an advanced video wall management solution suitable for a wide range of residential and commercial installation environments.
At its root, AV over IP is a method of distributing audio, video, control signals and more over a standard IP Network.
Initially, the technology was used in various professional audio-visual applications due to its low bandwidth characteristics, compatibility with existing network infrastructures and cost-efficient scalability for large footprint arrays.
To send HD video signals from a single source to an infinite number of screens, HDMI over Ethernet, also known as HDMI over IP, takes advantage of the existing Ethernet infrastructure.
Professional video over IP systems employs a standard video codec to compress the program material into a bitstream, then transmitted over an IP network as a stream of IP packets.
However, AV over IP technology has evolved to include low and zero latency transmissions, seamless switching and lossless video quality supporting 4K UHD, high frame rates, 4:4:4 and HDR.
It has become an increasingly viable alternative to conventional AV transmission over distance technologies for residential and commercial applications.