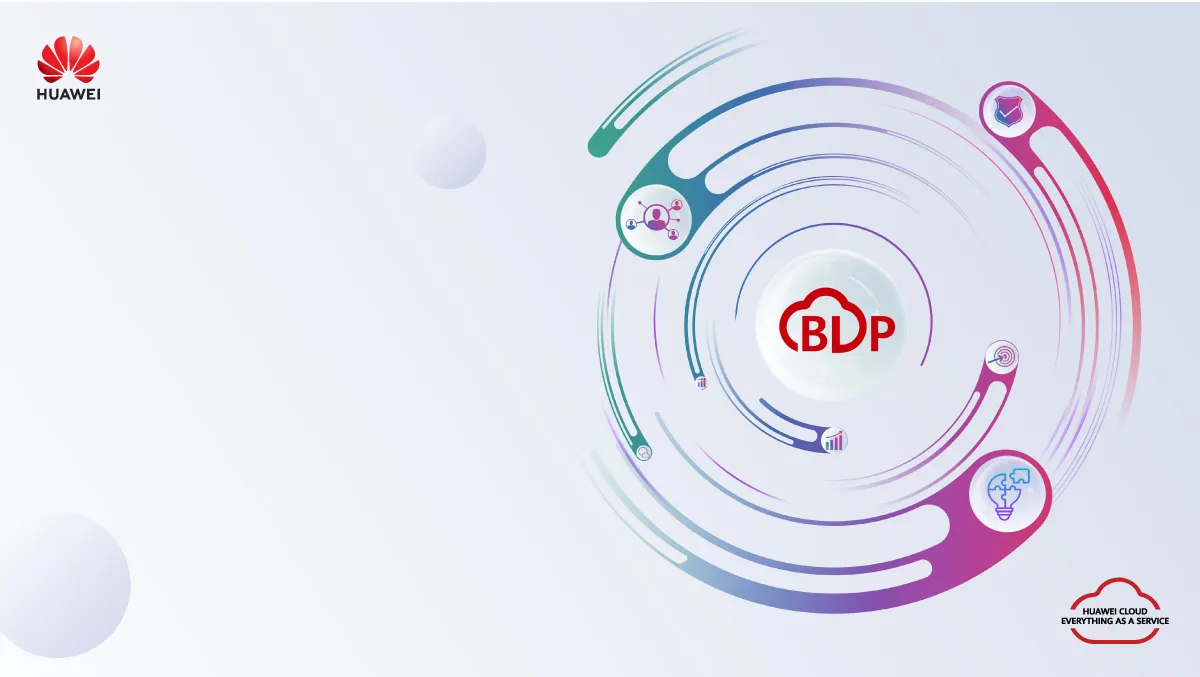 Huawei Cloud sets off SMB business development revolution
SMBs challenges
Businesses are adapting to a new world post-pandemic, and a big focus is finding solutions to ensure staff maintain productivity in working-from-home and hybrid working arrangements.
Digital workspaces have become vital to enterprises' digital transformation journeys, providing a foundation for high-efficiency business management and collaboration. But keeping up with all the latest technology and tools can feel impossible at times, especially with limited budgets, which is a common reality for small and medium enterprises (SMBs). This is exactly what Huawei Cloud's Business Development Platform (BDP) has set out to address with its latest Digital Workspace package.
Recent research finds SMBs are particularly vulnerable at a time like this, with financial struggles pushing 24% of companies with 50-999 employees to consider using pirated alternatives of business software to minimise their IT spending.
Among small businesses (fewer than 50 employees), only 8% are ready to take this step. But the fact that any are considering it is concerning, as doing this can seriously affect corporate cyber safety, since adversaries actively distribute malicious files under the guise of most used software.
Why Huawei Cloud came out with BDP
Research conducted in 2018 saw well over half of respondents say they envisioned running all workloads exclusively in either a private or public cloud one day, and attitudes have drastically shifted toward using multiple IT environments since then.
However, recent research notes that IT infrastructure is increasingly diverse, with organisations challenged in integrating data management and control.
Organisations are now striving to make the hybrid operating model more efficient, in particular when managing IT environments throughout the edge to the core. Moreover, this growing diversity in cloud deployments has generated greater complexity in managing application data across cloud environments.
SMBs are particularly vulnerable at a time like this, as there is a much narrower margin of error than larger organisations have. Think of the old phrase, "measure twice, cut once". These companies need to choose the right platform first time. If they don't, there could be dire consequences.
Huawei Cloud's new solution gives users a one-stop digital office for all their enterprise needs, with tailored offerings that will help them meet their goals in any business setting. This includes outstanding user experience with real-time access and data security, whether users are collaborating remotely, through mobile, or across multiple devices.
The BDP represents a comprehensive ecosystem of offerings that go beyond a mere set of simple business services. It is a digitally transformative platform that can be customized to your business's unique requirements. By integrating a pragmatic subscription-based model with a suite of cutting-edge Huawei Cloud services and solutions provided by our partners, your organization can now achieve the business growth it truly deserves, all while remaining economically efficient. With the BDP, you have complete control over the improvements and innovations that are most relevant and applicable to your business needs. Whether it is collaborative office in multiple scenarios, modern enterprise management, marketing intelligence, data and network security, or best practices for business transformation and digitalisation, the BDP provides you with a streamlined advisory, one-stop solution package of tools necessary to achieve all of your goals. Explore the BDP today and take the first step towards empowering your business of tomorrow.
Further, the BDP is easy to deploy, implement, operate and maintain, and sustainably expands complexity, allowing users to focus on core service development without the hassle of challenging technology infrastructure.
The new platform also comes with many different pricing options because Huawei Cloud recognises the need for flexibility in the current financial climate. Its pricing models allow users to start small and grow as the business grows, making the solution economical and allowing customers to optimise their investments without sacrificing quality or functionality.
The pandemic has accelerated the adoption of digital technology in businesses, leading to the need for remote collaboration and hybrid workspaces. Digital workspaces have become a critical element in enterprises' digital transformation journey, providing a foundation for high-efficiency business management and collaboration.
Huawei Cloud understands that keeping up with the latest technology and tools can be challenging, especially with limited budgets. That's why it is excited to offer these packages in collaboration with its partners.
How BDP can help SMBs with SaaS packages
Huawei Cloud's new solution offers more than just simple business services. Instead, it brings together a range of exceptional capabilities into a digitally transformative and pragmatic subscription-based platform that users can customise to meet their specific organisational needs.
The company's partners have provided the BDP with various state-of-the-art products and services. This, coupled with the platform's subscription-based model, makes it the ideal way for businesses to achieve the business growth they truly deserve, all while staying cost-efficient. Here's how:
Maximise productivity: Our world-class solution provides a one-stop digital office for all enterprise customers, tailored to meet the requirements of different business scenarios. Our solution offers top-notch user experience with real-time access and data security, whether you're collaborating remotely, via mobile, or on multiple devices.
Ease of convenience: We understand that businesses need to focus on core service development without worrying about the technology infrastructure. Therefore, we've made it easy for you. Our solution simplifies deployment, implementation, operations and maintenance, and sustainable expansion complexity.
Super economical: We also understand the importance of flexibility in pricing models. That's why we offer different pricing options that allow you to start small and grow as your business expands. Our super economical solution enables you to optimise your investment without sacrificing quality or functionality.
Some of Huawei Cloud's partners include:
WPS Cloud Pro (Office App)
This offering stores and accesses files anytime, anywhere, on desktop and mobile. The service also only takes up 100 MB and is all-in-one, providing Word, PDF, Presentation and Spreadsheet services in a single application and supporting all major file formats. More than this, users can download and use high-quality Writer, Spreadsheet, and Presentation templates directly. The offering also integrates many document features and collaborative tools.
IceWarp (Email and E-meeting)
IceWarp is a cloud-based business email and collaboration suite that includes a wide range of services.
Weaver (Office Automation)
An user-friendly and out-of-the-box digital remote working platform that enables teams to plan, execute, collaborate and share. No-code Business Process Management platform to simplify process automation using graphical tools. A solution which combines process management, best practices, governance, compliance and data management.
AroundDeal (Marketing Automation)
A leading sales and marketing intelligence and engagement platform that provides comprehensive and accurate data on business contacts and company information from all over the world, boasting over 110 million records, with a particular focus on emerging markets. Their cutting-edge technology allows them to crowdsource data, ensuring maximum coverage and accuracy.
SCcomms (UCaaS)
Say goodbye to the hassle of coordinating communication with team members. SCcomms offers seamless team collaboration no matter where team members are located. Scale cost-effectively with the pay-as-you-go model and boost productivity with innovative features like video conferencing, file sharing, and real-time messaging that make collaboration easy. Also, keep business data secure and protect privacy with reliable and secure communication.

The BDP gives users complete control over what improvements and innovations they choose to use, enabling them to pick what is most relevant to their business requirements. This solution is also beneficial across many industries as it provides users with a streamlined advisory in a single package that includes all the necessary tools to foster success, covering topics such as working collaboratively in an office environment, modern enterprise management, market intelligence, data and network security, and business transformation and digitalisation best practices.
Explore the BDP today and take the first step towards empowering your business for tomorrow.