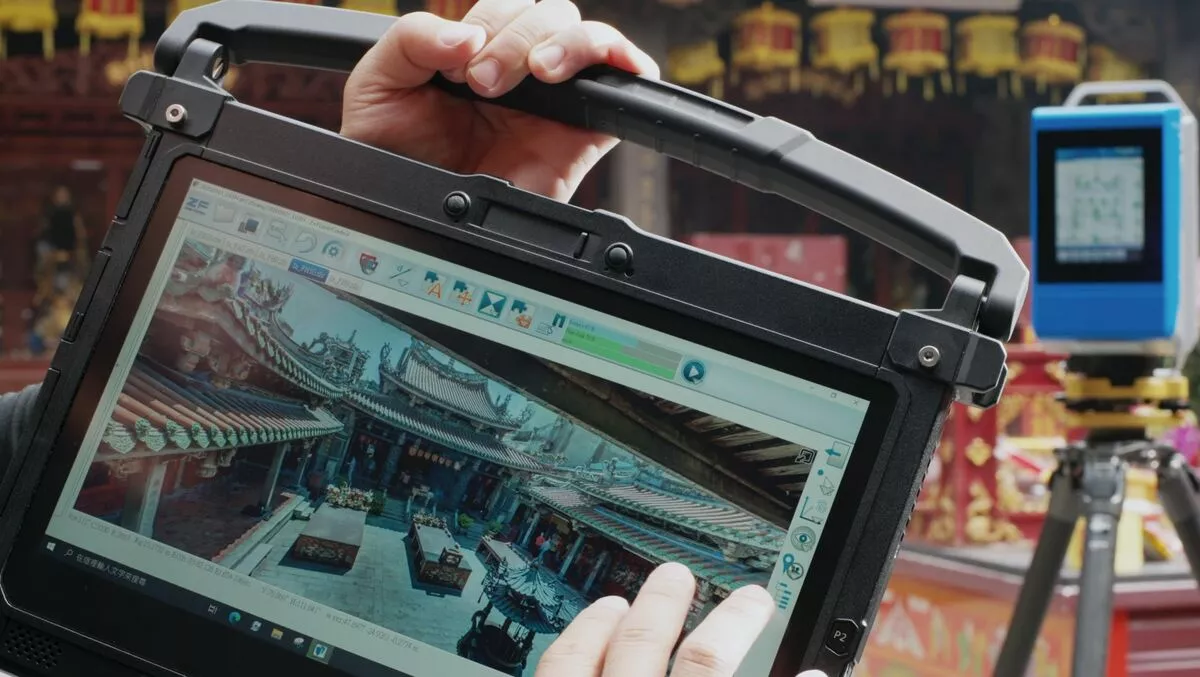 How a rugged tablet helped in the preservation of Taiwan's Lugang Mazu Temple
FYI, this story is more than a year old
Getac's rugged K120 tablet has been on an adventure with Taiwan's cultural icons, including the Lugang Mazu Temple and related historical artifacts.
Taiwan-based firm LeaderTek used the tablet and 3D laser scanners to create 3D models of the site for the Bureau of Cultural Heritage of the Ministry of Culture.
The temple was constructed in 1591 and in that time it, along with its artifacts, has slowly deteriorated. As such, the Bureau sought to preserve the history of the site through the use of digital modelling.
LeaderTek, which had previously used 3D scanning software and laptops for similar jobs, found that laptops could not remain efficient over long periods - the team had to let them cool down after a couple of hours. The screens also contributed to significant glare, making it difficult to inspect data from the scanners. Laptops were also prone to damage from accidents.
The team switched over to Getac's rugged K120 tablet to augment its 3D laser scanners and 3D point cloud processing software to better analyse and present point data.
LeaderTek manager Yao Liang-Chu speaks more about the switch, saying, "LeaderTek significantly enhanced its work efficiency due to the device's long-lasting, high-efficiency capabilities. The Getac K120 can work for six hours consecutively, so the team no longer needs to wait for the device to cool down onsite.
"At the same time, the team can also immediately inspect the point cloud status of the 3D laser scanners and find any unsatisfactory scanning results directly onsite and correct them immediately because of the K120 tablet's high-visibility screen, which is easy to read even in direct sun.
Getac business development manager Frank Baldrighi says the tablet has a light adjustment button that adjusts the screen's brightness level.
"The K120 tablet also meets military-grade specifications and IP66 standards. As a result, the device is shakeproof, waterproof, and dustproof, making it an ideal choice for working outdoors.
Yao Liang-Chu adds that 3D scanning was always limited to the capabilities of its consumer-grade laptops, as the team could only scan 20 station points per day, but not anymore.
"With the Getac rugged K120 tablet, users can now scan up to 70 station points a day, boosting efficiency by 250%. Furthermore, the ruggedness of the tablet prevents interruptions in digital modelling due to environmental issues and ensuring smooth work days. LeaderTek will continue to use the Getac K120 and preserve the beauty of Taiwan's historical monuments through the use of digital technology.