Bitrix empowers businesses with new customer & project management features in Bitrix24
FYI, this story is more than a year old
More organisations are turning to professional inventory and customer relationship management software, particularly in commerce as it continues to remain a hotbed of activity.
According to social enterprise platform Bitrix, organisations are seeking the benefits of inventory management software to ensure stock availability, fast order processing, and timely delivery, however, some organisations are facing costly delays due to software complexity and cost.
The company understands these challenges, and today it has released new capabilities within its Bitrix24 business suite.
Bitrix24 now offers inventory management, Scrum project management, smart online meetings, a new invoice system, instant WhatsApp integration and BI analytics.
Inventory management with CRM
Combined with Bitrix's powerful CRM, this new inventory management feature allows Bitrix24 customers to manage their stock, control warehouses, monitor sales, and track deliveries - all inside a single ecosystem.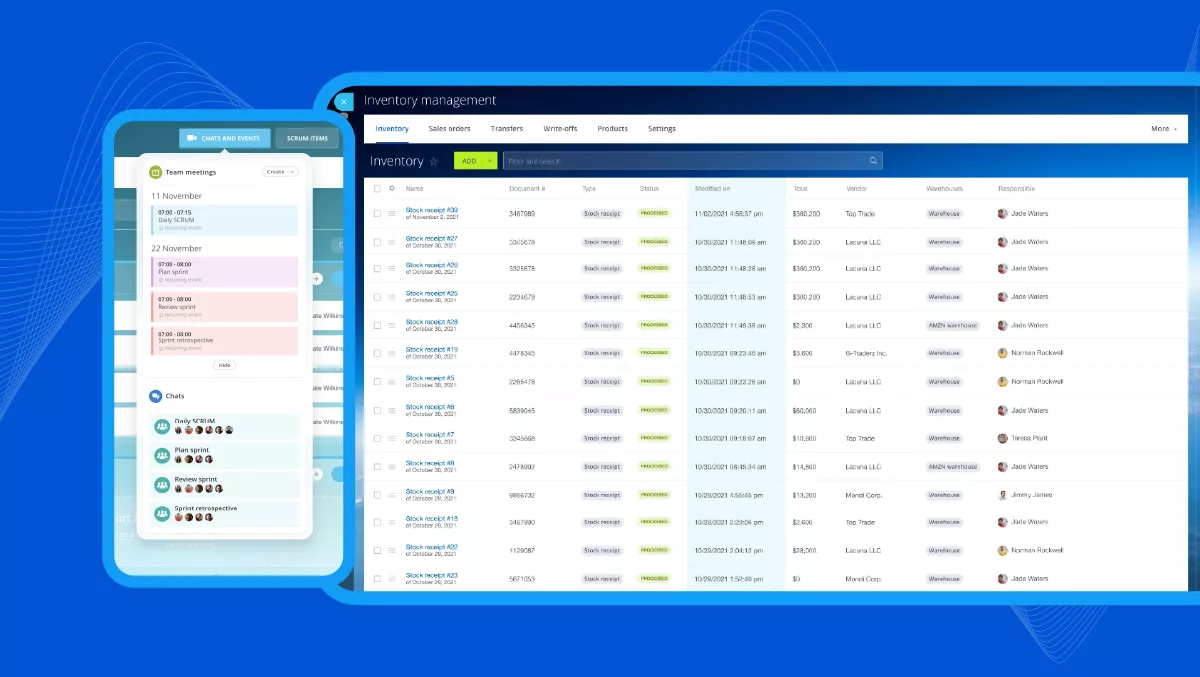 Scrum - popular project management with a difference
Scrum offers simple, efficient, and versatile project management - with capabilities like that, it's no wonder Scrum is so popular. Now, Bitrix24 users can manage their projects inside Bitrix24 using the Scrum framework. It includes everything you'd expect from a tool, including backlog, sprints, story points, epics, DODs, and more.
What makes Scrum in Bitrix24 special though is the fact that it comes integrated with Bitrix's in-house communication tools including chats, online meetings, and comments, making it a one-stop solution for any team.
Meeting Briefs for smarter online meetings
Online meetings are a great way of talking through ideas and problems, but action is a little more difficult to activate. Bitrix believes that every work meeting should result in a concrete plan of action - or at least a summary.
To make online meetings more productive, Bitrix24 now includes Meeting Briefs, which complement the existing HD videoconferencing tool in Bitrix24. During an online meeting, participants can open a text file on the side and co-edit it in real-time jotting down important notes. The Meeting Brief is automatically sent to all the participants once the meeting is over.
New invoices
Bitrix24 CRM's invoicing functionality has been revamped to make them easier to use and more business-friendly with this update. What's changed? Everything: the new, simplified interface, quick and easy invoice creation, and mighty powerful automation to help Bitrix24 users process more deals in less time maximizing their sales efficiency.
Instant WhatsApp for better chat
The Bitrix24 WhatsApp integration has also been improved and updated. Now, users do not need to have a WhatsApp Business account to get full advantage of this integration. With the new Instant Whatsapp, it's easy to connect a regular WhatsApp account to Bitrix24 CRM and Contact Center to get new customers and generate sales through yet another channel.
BI Analytics
Making data-driven decisions is essential for all modern businesses. Who controls the data, controls everything. Bitrix now makes this easy with BI (Business Intelligence) Analytics. Bitrix24 users can now connect their account to PowerBI or Google Data Studio for professional analysis and visualisation of their sales data (leads, deals, conversions, and more).

Check out Bitrix24 here.
Read more about the new capabilities here.
Check out the video on YouTube here, or below.