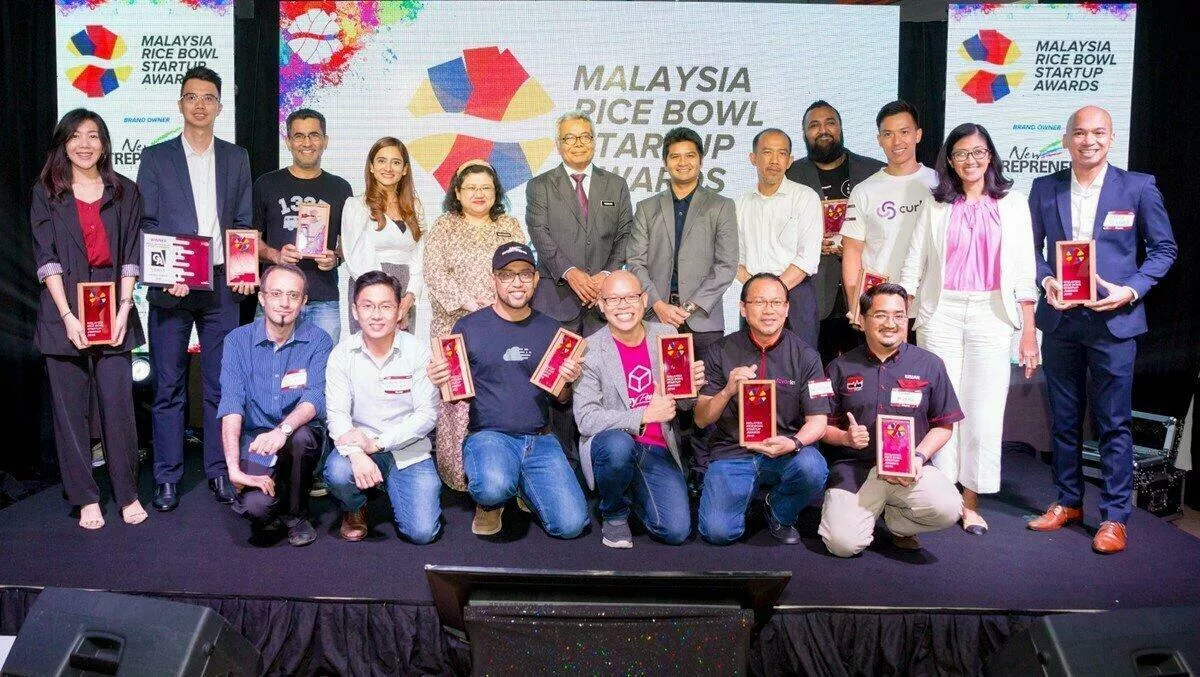 ASEAN Rice Bowl Startup Awards kicks off with Malaysia round
By Newsdesk
Tue, 15th Oct 2019
FYI, this story is more than a year old
The New Entrepreneurs Foundation (myNEF) has organised its first Malaysia Rice Bowl Conference on October 10 and kicked off the ASEAN Rice Bowl Startup Awards.
The events were officiated by Malaysia's minister of entrepreneur development Datuk Seri Mohd Redzuan Yusof.
The inaugural conference included panel discussions on startup fundraising, perspectives from investors and quite distinctively a panel discussion on the role of government agencies in Malaysia startup ecosystem which was participated by government agencies' heads namely Dzuleira Abu Bakar (MaGIC), Surina Shukri (Malaysia Digital Economy Corporation (MDEC) and Azmi Said (SME Corp).
Running in its fifth year, the Rice Bowl Startup Awards, which aims to connect and empower the ASEAN Economic Community to power up their local economies with startups and scaleups, are also known as the official Southeast Asian circuit of the Global Startup Awards.
This award celebrates the spirit of innovation and entrepreneurship in the Southeast Asian startup space.
Datuk Seri Mohd Redzuan Yusof says, "Under the National Entrepreneurship Policy 2030 (DKN 2030), launched on July 11, 2019, we seek to foster a stronger entrepreneurship culture across all segments of Malaysian society. For the economy to grow, we must ensure the presence of more startups, capital, talent and markets."
ASEAN Rice Bowl Startup Awards and myNEF chairman Hamdi Mokhtar says, "To those who wonder why Rice Bowl Awards are called as such, it is because "rice" is a staple diet in Asian countries.
"It is also a symbol of wealth and resources throughout the region, making the rice bowl an enduring symbol of livelihood and sustenance.
Hamdi says, "Startups have always been that rice bowl that sustains and grows the Southeast Asian economy, and we believe they will continue to provide for ASEAN for generations to come.
"We honor and celebrate these startups for their innovation and entrepreneurial spirit especially for their courage, determination, hard work and perseverance that helps power the region's economy and wealth."
He adds "We received more than 3,000 nominations this year from across South East Asia and it is a 60% increase from the previous year. These startups come from diverse industries and backgrounds, who are hungry to drive the success of their company.
"These are the risk-takers who inspire and thrive the startup community with their hard work.
Among the notable winners from Malaysia from the previous year who are making waves are Carsome, Dropee, JomParking, and iflix.
The following are the winners for Malaysia Rice Bowl Startup Awards 2019:
Best eCommerce - Supply Chain Startup
EASYPARCEL
Best Life Helper
MEDKAD
Best Foodtech/Agritech Startup
STIXFRESH
Best IoT Startup
FAVORIOT
Best AI - Machine learning Startup
ENGAGE
Best Fintech Startup
CURLEC
Best Accelerator or Incubator Program
1337 VENTURES
Best Coworking Space
COMMON GROUND
Investor of the Year
GOBI PARTNERS
People's Choice
GA SPACE
Best Newcomer
RUNCLOUD
Founder of the Year
JEEVAN KUMAR (ZOOM)
Startup of the year
RUNCLOUD
The top 3 categories with the highest number of nominations in Malaysia are Best Life Helper, Best eCommerce - Supply Chain and Best Newcomer.
Nominations are open to all companies established no more than five years in an ASEAN country. The nomination period is between 27 May 2019 till 9 August 2019.
It is followed by a round of judging by an industry expert.
The winners of each country will be announced in multiple national events scheduled in October and November 2019 in respective countries.
Malaysia is the first country to announce its Rice Bowl Winners for 2019 and each winner for Malaysia Rice Bowl will receive an exclusive PR Strategy Advisory Services package from Suppagood worth RM15,000 each.
Each National Winners will get to participate in the regional finale, a cross-regional program designed for entrepreneurs.
At the finale, winners will be able to meet and leverage the vast ASEAN startup community network. partner-up regionally, vertically, or cross-commercially to accelerate market expansion.
This year, the regional grand finale of the awards will be held in Kuala Lumpur in January 2020 in Kuala Lumpur.