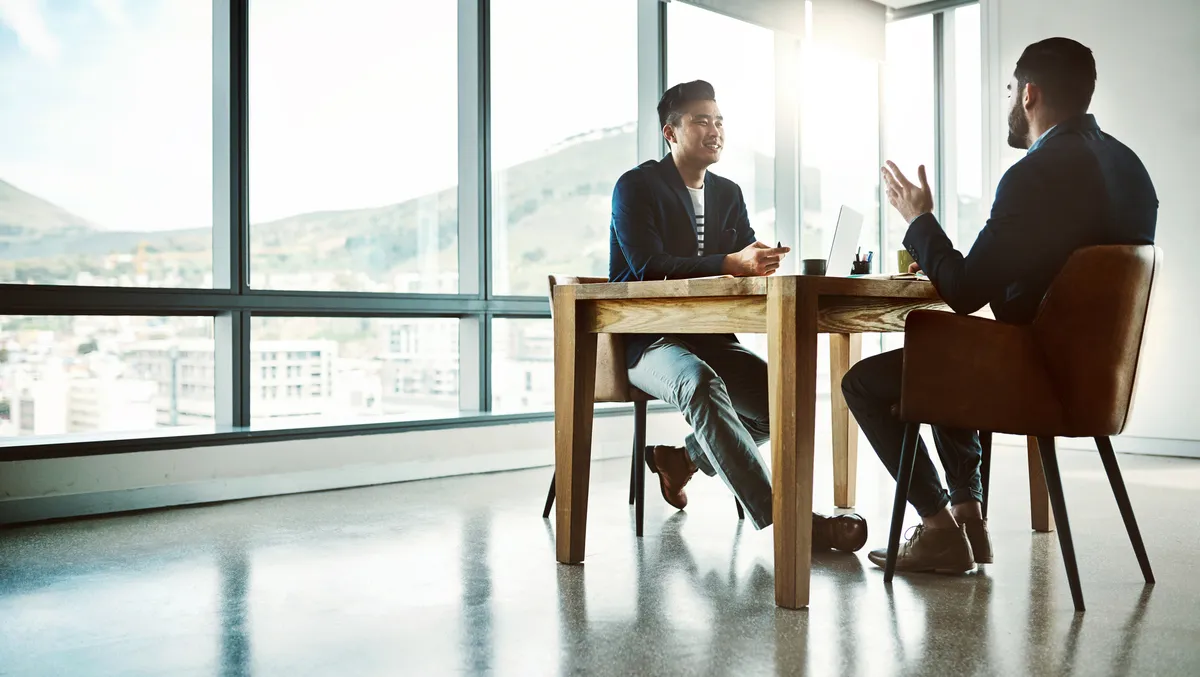 Tech job moves - Fujitsu, HackerOne, i-PRO, M-Files & NetApp
We round up all job appointments from November 25 - December 2, 2022, in one place to keep you updated with the latest from across the tech industries.

Anaplan (US)
Charles "Charlie" Gottdiener has joined the company as CEO and member of the Board of Directors.
Gottdiener joins Anaplan after four years at Neustar, where he was President and CEO. He will lead the global team with a focus on driving profitable growth and delivering business value to the world's largest enterprises.
As businesses around the world continue to navigate change and disruption, Gottdiener's leadership will position Anaplan as the only viable choice for enterprises looking for the agility and insight to succeed in today's market.
"Anaplan is the category leader in connected planning, a market that's growing rapidly due to the demand for real-time data and agility in business planning and execution," says Charles Goodman, Chairman, Anaplan.
"Charlie is a leader with the expertise and acumen to advance the company's vision while undergoing an important transformation to profitable growth. He shares our commitment to serving customers, partners, and employees with a world-class experience, and I am delighted to welcome him to Anaplan," Goodman adds.
"I am honoured to join Anaplan at this exciting time," Gottdiener says.
"Now, more than ever, companies need the ability to model and respond to macro changes in their business. Anaplan created the connected planning market 15 years ago. Today, it's used by more than 2,000 enterprises, and there's the potential to do so much more. I look forward to working alongside our talented employees and partners to create even greater value together."
In addition, the company announced the appointment of several new members to its Executive Leadership Team (ELT).
Joining existing ELT members Bill Schuh, Chief Revenue Officer; Fares Alraie, Chief Technology Officer; and Rohit Shrivastava, Chief Product Officer are Brian Kober, Chief Strategy Officer and Chief of Staff; Carey Pellock, Chief People Officer; Greg Giangiordano, General Counsel; and Hemant Kapadia, Chief Financial Officer. All members of the ELT will report directly to Gottdiener.
"It's an honour to welcome these proven leaders to Anaplan," Gottdiener says.
"Together with the current leadership team, they will deliver an exceptional experience to our customers and partners, accelerate our strategy, and empower and support our employees as we work to achieve profitable growth."

Bonsey Jaden Group (Malaysia)
The company recently appointed someone from the client side to manage one of its biggest regional offices. As the new Managing Director for Bonsey Jaden Malaysia, Sagar Paranjpe brings with him decades of experience and expertise in building, growing, and leading several teams across different verticals.
"There was a balance to the work and the overall culture that stood out to me from the beginning," Paranjpe says.
"Bonsey Jaden is not a mammoth moving slowly, but quick and clear about their strategies and how they want to grow the business."
"I was mostly doing creative work before I stumbled into branding, but from what I can already observe, a lot of us here did not follow a traditional path into our current work. I think that's a good thing, because it means everyone's unique experience is rich in its own way, and brings multiple perspectives," he adds.
"We didn't necessarily want someone to take the role and make it bigger," says Daniel Posavac, CEO, Bonsey Jaden.
"We think Sagar is an excellent fit because of his passion for people management, and his goal of enriching the teams and individual careers.
"He feels much the same way I do, that we have a responsibility to be a part of a positive change in the industry's culture. While it won't happen overnight, we can certainly move in the right direction; this is the kind of leadership Bonsey Jaden wants to continue investing in."
Paranjpe has now spent over a decade on the agency arena, bringing with him a creative journey that has taken him all over the world, from Thailand to Dubai to New Zealand and back to Malaysia.

Cequence Security (US)
Wei Wang has been appointed as Chief Financial Officer.
With over a decade of experience in the technology sector at both startups and Fortune 500 companies, including Cohesity, Juniper and Ordr, Wang's addition to the leadership team comes at a pivotal time for the company as it experiences increased growth among US and international customers.
In her capacity as CFO, Wang will lead Cequence Security's financial strategy and processes to empower its next chapter of growth within the API protection market.
"The API security market is quickly gaining traction, and Cequence Security is leading the charge," Wang says.
"I'm thrilled to be joining the company at such an exciting time and look forward to working with this talented team to further accelerate Cequence Security's strong momentum and high growth trajectory," she adds.
"APIs have become the currency of exchange for everything we do in today's digital economy, which is why it's critically important for businesses to take a modern approach that enables teams to discover, detect and defend their APIs," says Ameya Talwalkar, CEO and Founder, Cequence Security.
"Wei's skillset and proven track record of financial leadership at companies of various sizes will bring a unique perspective that is a tremendous asset as we seek to expand our global footprint and product offerings to meet the growing market need in today's digital-first world."

Cinchy (US and Europe)
Grant Brigden has been appointed as Marketing Vice President.
In this capacity, he will help drive Cinchy's growth as it expands throughout major markets in North America and Europe, and help oversee the addition of tech solutions that enable every constituency in the organisation to collaborate on operational data in real-time and build unlimited digital solutions with half the time and cost of traditional approaches.
"It's exciting to join a company that really is disruptive, it's not a cliché or empty hype," Brigden notes.
"We have so much data now, and it's so hard to access, that we need to transform the way data is managed and made available to the people and applications that need it most, and Cinchy does exactly that.
The Cinchy Dataware Platform liberates enterprise data into a network, an approach that fundamentally eliminates data integration and enables the Zero-Copy integration framework to enhance collaboration without compromising security or compliance.
"I look forward to taking this dramatic technology advance to many new target markets."
Brigden comes to Cinchy with a creative and entrepreneurial background, having created and co-founded the tech startup Rover Parking, which has been described as the 'airBnB of parking.' He led the company through its successful acquisition by SpotHero in 2021.
In addition, Brigden has been nominated as an Ernst & Young Entrepreneur of the Year, a finalist for the PwC Vision to Reality Award, won the Infiniti Automobile Startup Program, and was named by The Globe & Mail as one of Canada's most promising startup founders.
"Taking a dynamic solution to market depends on having dynamic professionals on the team, and Grant fits the bill perfectly," says Dan DeMers, CEO and Co-Founder, Cinchy.
"We're entering a new phase with our go-to-market strategy, and we need an entrepreneur with a passion for innovation to lead our marketing efforts.
"We welcome Grant to the Cinchy family, and we look forward to big moves ahead."

Contentsquare (France)
The company has formed a new strategic Advisory Board, bringing together expert industry leaders from top brands, including Ford, L'Oreal, Sur la Table, Sysco, and more.
The new Advisory Board will provide support and guidance on the company's go-to-market strategies, including product vision, partner strategy, and market-facing campaigns. Each of these advisors is culturally aligned and passionate about helping enhance the Contentsquare brand and value proposition.
With customer experience having become a key driver of business growth, this proven group of CX experts will focus on supporting Contentsquare to navigate the competitive battleground, highlight the importance of CX in their industries and disciplines, and advise the company on target industry priorities. Their expertise spans industries including fashion, luxury, retail, B2B, tech, travel and hospitality, and telecom, among others.
The current members include Jason Goldberger, CEO of Dollar Shave, former CDO Target; Harvey Bierman, CDO Christy Sports, former VP Product Crocs; Z Shen, x-CEO Denstu APJ, former-COO Dentsu Global; Jyothi Rao, x-CEO Intermix, former-GM Gilt, former-VP Digital Target; Ashwin Kamlani, CEO Juicer, former-CDO Luxury Hotel Chain; Shashidhar Hiremath, SVP Digital - Ford, former-VP Digital - Verizon; Rachel Frederick, GM, eCommerce, Sur La Table; Michael Gulmann, former-CPO Expedia Group; Jean-Claude Le Grand, Chief People Officer of L'Oréal; and Rence Winetrout, VP of eCommerce and Digital Growth of Sysco.
"At Contentsquare we are laser-focused on understanding our customers, and optimising the relationship between brands and consumers to help enhance the digital experience for all," says Pierre Casanova, Chief Revenue Officer, Contentsquare.
"This superb group of executives and professionals across industries will greatly help us achieve these goals while focusing on making the digital world more human.
"We could not be more thrilled about this Advisory Board and look forward to seeing the impact they will have on our brand and our company at large."

Firestory (Australia)
Rob James has been appointed as Managing Director.
James, formerly Chief Digital and Information Officer at Vodafone, has been brought on board to drive the next phase of growth for the Australian software company.
In addition to his telecommunications experience as Chief Digital & Information Officer at Vodafone and TPG Telecom, James previously served as Group Chief Technology Officer at Qantas, where he drove technology implementations that used Cloud and AI/ML to optimise airline routes in order to conserve fuel.
"After witnessing the devastating effects of the 2019 bushfire season, I am excited to be part of a technology company that is designing and building technology to prevent something like that from ever happening again," James says.
"I believe Firestory is a game changer in how technology can help fight fires and save lives.
"The foundational features have been developed, but there is a big job ahead to help organisations digitally transform their operations and culture in order to maximise the benefits that Firestory can deliver.
"I'm extremely motivated to help deliver this to firefighters, whose lives depend on it."
Firestory was developed by Australian technology company, Kablamo, in the wake of the 2019-2020 Black Summer bushfires. The software platform builds on Kablamo's experience of developing a global-award-winning AI/ML cloud platform for Victoria Department of Environment, Land, Water & Planning.
"We think Firestory can be a world leader in bushfire intelligence. Rob brings to the company a wealth of leadership and technology experience, including in aviation and communications, both of which are extremely relevant to the Firestory vision." says Angus Dorney, co-CEO, Kablamo.
"That someone of Rob's calibre has chosen this role is an exciting sign of the potential impact of the product, and the future of the Australian Firetech industry."
With a strong and growing pipeline of potential future customers, Firestory is targeting growth in Australia and North America. In his new role, James will help to accelerate development of the Firestory product, to interface with Australian and Global Fire agencies and to develop Firestory's ecosystem of firetech partners.

Freshworks (US)
Jason Loomis has been appointed as Chief Information Security Officer.
With this appointment, the company bolsters its senior technical leadership as it continues to put the power of software back in the people's hands, with applications easy enough for everyone to use.
"Businesses need fast, easy and secure software to delight their customers and employees," says Prakash Ramamurthy, Chief Product Officer, Freshworks.
"Jason brings a proven track record of operational excellence in security, at massive scale, to our team. We value the trust our customers place in Freshworks, and operating with a strong cybersecurity posture that can help mitigate data risk is of utmost importance."
Loomis brings more than 20 years of experience in information technology and cybersecurity leadership to the role, most recently serving as the Chief Information Security Officer at MINDBODY, overseeing an enterprise-wide information security program and leading a globally-dispersed team.
Before that, he served as Chief Information Security Officer at TechStyle Fashion Group, the company behind brands including Fabletics and Savage X Fenty.
He holds a Bachelor of Science in Management Information Systems from the University of San Francisco and a Master of Business Administration from the University of Oregon.
"Joining Freshworks was a natural choice for me. My fresh approach to cybersecurity perfectly aligns with how Freshworks has flipped the complex nature of software on its head to make solutions easy for anyone to use," Loomis says.
"I'm looking forward to working with the leadership team here at Freshworks to continue our evolution in being the provider of choice for security and reliability."

Fujitsu (Australia)
Mary Aldred has been appointed as its Head of Government Relations for Asia Pacific.
Commencing her role in February 2023, Mary will lead and develop Fujitsu's government advocacy and engagement strategies at federal and state government levels to advance the company's strategic goals.
With extensive experience of government relations, public policy, issue management and strategic communications, Mary has held senior executive roles in both private and public sectors.
She has also served on a number of boards and government advisory committees, including as a director on LifeLine Gippsland, Latrobe Regional Hospital, and as a member of the Victorian Women's Corrections Ministerial Advisory Committee, the Gippsland Tertiary Education Council and more.
Most recently, Aldred was the CEO of the Franchise Council of Australia, where she was instrumental in preparing and presenting the sector's response to the joint parliamentary committee inquiry into the 2018 Franchising Code of Conduct.

HackerOne (US)
Jayson Noland has been appointed as Chief Financial Officer.
Noland holds nearly two decades of experience driving investor relations, financial management, and equity analysis of public and private companies. His expertise and proven success guiding cybersecurity brands will help him lead financial strategy to ensure a healthy balance sheet for HackerOne as it grows the platform and overall business.
"HackerOne has a unique offering and a brand that stands out in a busy cybersecurity marketplace," Noland says.
"Every company on the Forbes Global 2000 needs to engage with the global ethical hacking community to ensure resistance to attack and join the thousands of customers that already rely on HackerOne. I see a wonderful opportunity to lead a financial strategy that complements business growth as HackerOne expands its iconic brand and platform."
As Cloudflare's VP of Strategic Finance, Treasury, and IR, Noland steered the company through IPO, helping lead a financial strategy that expanded Cloudflare's revenue run rate from $100 million to $1 billion.
Noland brings capital markets experience from financial services firm Baird, where his work focused on cybersecurity companies. At HackerOne, Noland will focus on scaling business processes and building revenue durability as the platform matures into a multi-product suite of solutions.
"As we continue to innovate, our economic engine is evolving with the market-leading solutions we are building for enterprise and technology customers," says Marten Mickos, CEO, HackerOne.
"Jayson's deep industry knowledge and proven success managing the financials of leading cybersecurity brands will prove essential as we expand the ways customers can increase their attack resistance."
Noland joins an expanding executive bench at HackerOne, following the hiring of Mahesh Chukkapali as Chief Operating Officer in early November and Ilona Cohen as Chief Policy Officer in July.

i-PRO (ANZ)
Experienced security industry professional Rafal Loretz has joined the company as Business Development Manager for Australia and New Zealand.
Loretz was previously employed by Milestone Systems, where he spent more than seven years in technical and sales roles including time as a senior engineer and channel business manager.
His deep technical skills and industry knowledge will bring a new element to i-PRO's local team, with particular reference to the company's expanding range of advanced AI-powered devices.
"Working on the technical side of the industry has allowed me to find and provide the best possible solutions to my customers. I joined i-PRO because I wanted to be involved with AI sensors and help develop the future market. i-PRO's AI capability and metadata development is opening possibilities beyond security," Loretz says.
This new role continues the expansion of the i-PRO team in the Oceania region, following the announcement of three new team members in July.
"With the growth in the AI capabilities within our portfolio and focus on supporting our VMS partners, we were excited to bring Rafal onboard because of his extensive VMS experience and strong technical background. The key to success with AI in the future will be strongly dependant on the ability to enable the AI ecosystem with strong and clear understanding as a subject matter expert. We feel Rafal's experience will enable him to thrive within i-PRO's industry leading AI ecosystems," says Matthew Terrey, National Sales Manager, i-PRO.
Loretz will be based in Melbourne, expanding i-PRO's footprint in the Victoria region. He will be responsible for operations in Victoria, South Australia and Tasmania.
"As we continue to grow i-PRO's product offering in the global market and in specific the Oceania market with a large focus on our Edge AI open platform and level of integration into the major VMS partners, it is also important that we resource and grow our team with industry specialists that understand the market. As such we are very excited to welcome Rafal Loretz on board," says Marius Van Der Merwe, APAC Director, i-PRO.

Ivanti (US)
Michelle W. Hodges has been appointed as Senior Vice President, Global Channels and Alliances and John Beuchert as Vice President, Global Partner Programs and Strategy.
Beuchert and Hodges have joined Ivanti to lead channel strategy and accelerate growth by enabling partners to leverage the full breadth of capabilities available in the Ivanti Neurons solutions with their customers.
"We are thrilled to have Michelle and John join Ivanti to strengthen our partner relationships and further build our ecosystem," says Dennis Kozak, Chief Operating Officer, Ivanti.
"Their addition to our team will further enable Ivanti to focus our efforts in the field, maximise our partnerships, and provide our customers with superior support. They both bring deep experience in leading world-class channel operations and have a proven ability to execute.
"The Ivanti Neurons offering creates a significant opportunity for partners in many different routes to market to realise value and serve their customers."
Hodges has global experience working with companies in international expansion, both in operating and go-to-market strategies.
"I am excited to join Ivanti and eager to get to work building value for our partner community," Hodges says.
"There is tremendous opportunity in the Ivanti Partner Program, and my immediate focus will be on building on the foundation of the ecosystem strategy and expanding our programs around the world.
"I am committed to driving impact for Ivanti by building value and profitability for our partners across our strategy, programs and Go-To-Market."
Beuchert is a seasoned channel executive who has driven double-digit sales growth through building productive relationships around global channel strategy, analytics and incentive-based programs with a strong SaaS and Fortune 500 background.
"Joining Ivanti is a great opportunity to build a strong partner community and make a real impact for our partners and customers," Beuchert says.
"I was attracted to the culture of collaboration and opportunity at Ivanti and am eager to bring this same culture to our partner community.
"Ivanti has the right solutions to help organisations solve the problems presented in today's hybrid work environment and address the needs of IT teams and employees."

Mantel Group (Australia)
Co-CEO of its CMD Solutions brand, Adam Durbin, will transition to CEO of newly launched offering, Cyber@Mantel, effective immediately.
Cyber@Mantel will pull together Mantel Group's existing experience and expertise into an offering that can service existing and new clients across its nine brands, or directly, to enable customers to accelerate large-scale cyber security initiatives and improve the protection of their IT environments.
"As part of the broader Mantel Group, Cyber@Mantel is in a unique position to offer an end-to-end solution for organisations of all sizes," Durbin says.
"At a time when businesses across the country are clearly struggling to keep their security posture in line with the pace of change, the launch of Cyber@Mantel will allow us to focus and specialise in supporting organisations to improve their cyber security and risk posture by leveraging real-time visibility and response, automation, best in breed tooling and a risk-driven prioritisation framework.
"We will be able to enhance our strategic partnerships with major cloud providers and innovative vendors to extend our offerings around core security domains, including cloud, data, digital and governance, and risk and compliance.
"Security expertise is in short supply, and many organisations don't have the capabilities in-house to tackle their security challenges.
"Cyber@Mantel will assist our clients' cyber security teams to keep up with the pace of innovation and the evolving threat landscape by implementing real-time security assurance, driven by automated collection of key metrics and KPIs."
Durbin is already looking to grow the current Cyber@Mantel team and is currently hiring leading security experts.

M-Files (ANZ)
Grant Waanders has been appointed as Alliances Manager for Australia and New Zealand to help drive success by growing the company's partner sales channel.
He will manage the partner strategy and program development for the region with a focus on engaging with existing partners and recruiting new partners to support growth.
Based in Adelaide, Waanders is a highly accomplished and hands-on professional with more than 25 years of experience in the ICT industry, with most of this spent working at global vendors with extensive partner networks, including Microsoft, IBM, and Dell.
He has developed the skillset to oversee the entire partner lifecycle, from recruitment, onboarding, and enablement of new partners through to the ongoing development and sales management of those partners.
"M-Files is pleased to have Grant Waanders join the team as he brings a high level of experience and an extensive skillset to the role," says Bob Pritchard, Chief Revenue Officer, M-Files.
"With proven abilities in developing new business, partner strategy, and nurturing strategic accounts, Grant is an exceptional addition to the team," Pritchard adds.
"Joining the M-Files team is exciting," Waanders says.
"Helping partners grow their businesses successfully is a key driver for me, and I look forward to doing that with the M-Files team. Having worked in the industry for many years, it's clear that information management is crucial to the ongoing digital transformation of businesses across most industries.
"M-Files is a leader in this sector and works with partners throughout ANZ who are committed, dedicated, and passionate about their customers' success. I look forward to becoming part of that success and to helping M-Files continue to expand its presence in this region."

NetApp (ANZ)
Matthew Hurford, the former Vice President of Solutions Engineering and CTO of Asia Pacific at NetApp, has been appointed as its new ANZ Area Vice President and Managing Director.
"I am delighted to appoint Matt to drive the operations in Australia and New Zealand," says Sanjay Rohatgi, Senior Vice President and General Manager of Asia Pacific and Japan, NetApp.
"Matt has been part of the NetApp family for nearly 14 years and has long standing relationships with many of our customers and partners here, advising and supporting them on their digital transformation journeys. With him at the helm, I am confident our ANZ business will scale greater heights."
In Australia, NetApp has been delivering industry-leading services to local businesses and government agencies for over two decades, enabling customers' data services through innovative technology.
"I am excited to have the opportunity to drive a leadership team that puts the customer at the center of everything it does," Hurford says.
"I'm looking forward to helping customers take advantage of the tremendous data transformation opportunities that lie ahead, supporting them as they embrace the cloud to boost their operational efficiency, data resiliency and rationalise costs."
Hurford has more than 20 years of experience in the technology industry with demonstrated business acumen, client management and technological expertise.

Johnson Controls (Australia)
Andrew McCabe has been appointed to the newly created role of Director Government and Defence, Pacific.
In this role, McCabe is responsible for delivering strategic services and driving key installation projects within the government and defence sectors in Australia.
McCabe has more than 20 years of experience in sales and business development within the demanding service industry across Australia, the United Kingdom and Ireland.
Most recently, as the director of vertical markets with Johnson Controls, McCabe has built deep relationships with the defence and healthcare industries while gaining deep understanding of the broad portfolio of solutions, including AI-driven digital building management solutions, HVAC (heating, ventilation and air-conditioning), fire protection and high security.
"Johnson Controls is committed to providing world-class building technology solutions for the government and defence sectors in Australia," says Craig Buettel, General Manager, Buildings, Pacific.
"With his strong leadership experience and extensive understanding of the current market, Andrew will build on our decades-long relationship working with the Australian federal government.
"In his new role, Andrew will focus on delivering tailored solutions that meet the unique needs, such as sustainability improvements and optimising building performance, of federal facilities and critical infrastructures."
McCabe will also be responsible for further strengthening relationships with long-standing supply partners, including solution providers in high security, marine and cyber security, in Australia. He reports directly to Buettel and is based in Sydney.

Panzura (US)
Katie McCullough has been appointed to the newly created role of Chief Information Security Officer.
McCullough will be responsible for security and compliance for the company and customers alike as Panzura continues its ambitious growth trajectory.
"It's a privilege to join a fast-growing company with as much potential as Panzura," McCullough says.
"Jill and her team have an incredible vision for the future of data management, and I can't wait to help shape the future of data security."
McCullough joins Panzura with more than 25 years of experience executing and leading security operations, compliance, managed services, and cloud solutions. During her time working for industry-leading companies OneNeck IT Solutions and CDW/Berbee, Katie has time and again proven her strategic leadership creating secure IT environments that enable businesses to run, grow, and transform.
"Our industry is changing. In my role as the only female CEO in data management, I set about creating an equitable, diverse work culture that rewards passion and performance," says Jill Stelfox, CEO, Panzura.
"Katie's proven ability to develop and implement transformative security strategies through her inspirational, team-centred leadership style makes her a great fit for Panzura."

Reddit (US)
Reddit has appointed Stephen Riad as Vice President of Global Mid-Market and SMB Sales, and Roelof van Zwol as Vice President of Ads Engineering, who join the company's executive team in newly established roles as its advertising business continues to scale globally.
Charged with defining the global strategy and structure for Reddit's mid-market and small business (MM and SMB) sales organisation, Riad will lead the sales teams responsible for driving monthly active advertiser growth within these important segments, oversee client and agency relationships, and work closely with cross-functional leaders across the business to ensure the strongest solutions for these partners.
Riad joins Reddit from Google, where he held senior roles across strategy, sales, operations, and business growth, and was charged with establishing the company's first MM and SMB acquisition business across the Asia Pacific region.
"I've been fortunate in my career to see several clients evolve from a small business to an enterprise brand and it's one of my favourite aspects of the job to contribute to that journey," Riad says.
"Reddit's ads business has seen incredible growth in recent years but is only scratching the surface of its full capability, and I'm excited to be part of the team to further unlock that potential and drive meaningful business outcomes for clients."
With almost 20 years of experience in machine learning, most recently from Pinterest where he was Head of Monetisation Sciences and ML Engineering, van Zwol is focused on leading the technical strategy, execution, and team behind Reddit's monetisation engine.
He is responsible for building the architecture that powers Reddit's Ads Marketplace and overseeing the Ads Software, Solutions, and Reliability Engineering teams to ensure a best-in-class offering for Reddit advertisers around the world.
"It's a thrilling time to join Reddit as online communities are becoming more and more integral to the daily lives of audiences around the world," van Zwol says.
"I personally find myself using Reddit every day, whether it's to find answers to specific questions or learn and share knowledge around topics that interest me.
"Reddit is in a unique position to bring together users and advertisers based on their shared interests and goals, and I'm so pleased to be able to help advance the monetisation of Reddit as a platform by bringing more value to advertisers and users alike."

RobosizeME (Czech Republic)
The company has appointed three industry stalwarts to its Advisory Board as it beefs up its delivery team and RPA solutions to tackle staff shortages in the industry.
Douglas Rice, Riko van Santen and Simone Puorto bring a breadth of experience across the travel and hospitality industry as the company seeks to raise awareness of its managed RPA solutions.
Rice is a global hospitality technology leader specialising in strategic projects and market and product expansion.
Widely known as the Founder and CEO of Hospitality Technology Next Generation (HTNG) and currently Managing Director of the Hospitality Technology Network, Rice provides strategic services to promising startups and small to mid-sized technology providers in the hospitality industry.
Van Santen brings expertise from over 20 years revenue, distribution, technology, digital marketing and loyalty experience.
Currently Chief Information Officer and member of the management board at Kempinski Hotels S.A., van Santen's hands-on hotel experience will further aid RobosizeME's mission to provide technology that positively impacts the real-world experiences of guests and hotel operational teams.
Futurist and founder of the travel technology consulting firm Travel Singularity, Puorto will draw upon his technology innovation experience.
In partnership with Hospitality Net, Puorto organised Polybius, the first travel and hospitality gathering in the Metaverse, in May 2022, now a quarterly event.
RobosizeME was founded by Stephen Burke (formerly of Sciant and RateTiger), is based in the Czech Republic and recently launched its Robotic Process Automation (RPA) service for the hospitality industry. Burke remains CEO.
"We are excited to be onboard with RobosizeME. Automation has potential for exponential growth in the hospitality industry and can address some key operational challenges by processing repetitive tasks," van Santen says on behalf of the Board.
"This will ease the workload on hotel staff, particularly in revenue management, front office and in finance teams, allowing them to re-centre on adding value to the business and to guests.
"As a group, we believe our experiences in technology and hospitality will help Stephen and his team grow awareness of automation's potential and make RobosizeME synonymous with RPA," van Santen adds.
"Our RPA services have been carefully constructed with hotels in mind," Burke says.
"We want to free the people from important yet menial administrative and data tasks to let them focus on driving the strategic objectives for the business and building memorable experiences for their guests. The new Advisory Board will help us achieve that goal."

SolarWinds (Asia Pacific & Japan)
Aten Lim has been appointed as Asia Pacific and Japan Managing Director, and Sara Kao as Asia Pacific and Japan Marketing Director.
The duo will chart the region's sales and marketing strategies to further fortify the company's market leadership for IT operations management (ITOM) software in APJ.
Their appointments reinforce the company's commitment to strengthening business activities, partnerships, and regional support.
"As we deepen our presence in the region, it's crucial to have a team of experts in developing regional growth strategies," says David Cronk, International Sales President, SolarWinds.
"Aten and Sara bring a depth of valuable experience and knowledge that will help scale our APJ team to greater heights."
In the newly formed role as the managing director of SolarWinds APJ, Lim will be driving business strategy to attain the next phase of growth and expand the company's footprint in the APJ region.
"I'm excited to be part of the SolarWinds family and look forward to working closely with the APJ team to strengthen the company's solid roster of existing strategic partnerships in the region," Lim says.
"After working in IT across Asia for over 20 years, I'm ready to share my formula for success with the team and help customers in the region accelerate their digital transformation journeys."
As the new APJ marketing director, Kao will be setting the pace for the company's regional marketing efforts.
"It's an exciting time to join the SolarWinds APJ team as the company brings its new observability offerings to market," Kao says.
"I look forward to playing a part in driving our marketing strategy and growing our presence in the region."

Vista Cinema (UK)
The company has added to its senior leadership team by promoting London-based Mischa Kay to the new role of Chief Revenue Officer.
Vista Cinema is the largest business in Vista Group, the parent company to several businesses that provide software and technology solutions across the film industry.
Kay's promotion comes as Vista Group accelerates its platform-based strategy, offering cloud solutions that provide value for clients and power the moviegoer experience.
Kay previously held the positions of Managing Director for EMEA, where he led Vista Cinema's growth in new markets across the region, and more recently as Acting Global Head of Commercial, where he led the commercial strategy for SaaS solution Vista Cloud, which launched in 2021.
"Vista has been building on its cloud strategy for more than five years and this is the future of cinema," Kay says.
"I'm looking forward to bringing exceptional Digital and Cloud SaaS solutions to the global cinema market, over 50% of which are existing clients.
"In my role, that means aligning teams across the business to empower better moviegoing experiences through technology and constantly delivering innovation to our Cloud clients.
"We believe in the transformation our cloud strategy will bring to cinema teams, from film bookers through to IT departments and everyone in between, and I am really looking forward to proving that with our early-adopter clients in the coming years," he adds.
"As a hugely valued member of the Vista Cinema team for 16 years, Mischa brings a great deal of expertise and invaluable knowledge to his new role," says Leon Newnham, CEO, Vista Cinema.
"We're excited to see him drive the transformation of our client engagement model that, through Vista Cloud, delivers client success experiences that allow cinemas to focus on what's important to them: the moviegoer experience."